In conjunction with Universal Children's Day, the annual Tuanku Bainun Young Changemakers Award 2018 was held on 23rd November 2018. It is a platform to recognize and celebrate children in Malaysia who are doing great things for the community. These extraordinary children's work not only inspires their peers but adults alike.
Category: Individual 6-12 years old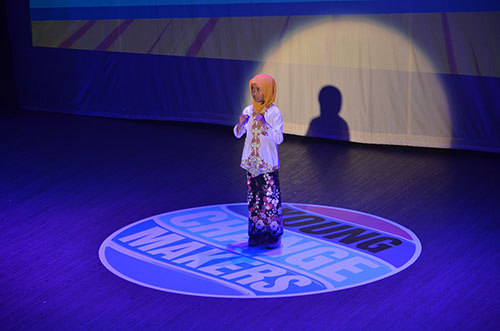 Sarah Najihah Binti Mohamad Fauzi, 10 years old from Sekolah Padang Pekan, Jitra, Kedah, created and designed her  very own handmade soap "Sara Ann Surprise Soap".
She displayed great spirits and affinity in community development activities focusing on personal hygiene. Her mission is to cultivate and encourage children as early as 6 years old to start taking care of their personal hygiene, especially their hand hygiene. She has designed and produced hand-made soaps that contains toys inside the soap as form or reward and incentive to encourage children to wash their hands regularly.
The idea is that the more they wash their hands, the faster they can get to the toy. Sarah hopes that her contribution to her community will result in greater impact in the future generation. She has always believed that a generation that cares for cleanliness will produce a healthier and more productive society in the future. Her project is seen as a social investment that will create a healthy society in the future.
Category: Individual 13-15 years old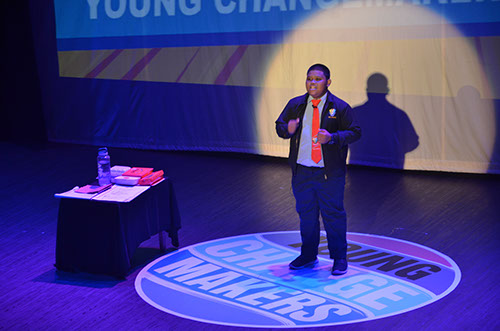 Muhammad Danish bin Agunawan from Kota Kinabalu, Sabah created a movement to lessen the use of plastics and polystyrene is his community.
Current impacts and changes that Muhammad Danish has made are his schoolmates do not use polystyrene in school and now bring their own food and beverage containers. As he assists in his father's restaurant, he constantly informs the customers of this project and customers have begun bringing in food containers and environmentally friendly bag carriers for their take-away.
Through his project, he is more aware of the different types of plastics and whether it can be recycled and its effects on health and environment. Through the Speaker's Corner at his school canteen and through the Community Project, Plogging (jogging & collecting rubbish) he is more confident in his aim to create more awareness of the environmental issues caused by plastic.
He also produced a broom entirely made out of recycled plastic bottles and convinced his friends to produce more brooms to be used in their school. With that, they are able to reduce the school's cost of purchasing new brooms and make use of the plastic bottles that are not being recycled.
Category: Group Project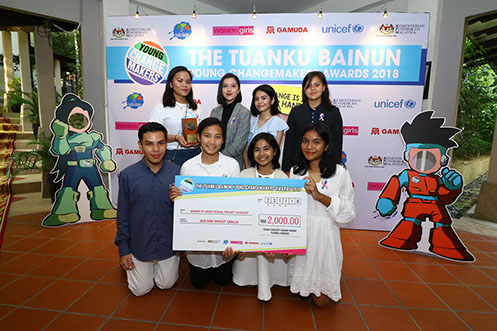 Hands for Education is an independent student initiative, it comprises children from ages 13 to 17 years old and is not associated with any school. Their aim is to help underprivileged students excel academically and grow holistically, through weekly peer-to-peer mentoring sessions. Their aim is to help students from low-income families, living in the PPR Kota Damansara flats by connecting them with other high-achieving students from other schools.
The group provides academic support by preparing students with the skills needed to face exams, and life. At the end of the day they hope to be able to uplift their socio-economic status and break out of the poverty cycle through meaningful and effective education, where they are not left behind. They have an apathetic attitude towards their financial state, their homes and their own community. There seems to be a lack of motivation to improve themselves and the state of their surroundings. They found that the most of the residents living there have very similar mindsets which may contribute to their lifestyle and their inability to break out of the poverty cycle.
Hence, they came up with a programme that is able to provide opportunities, motivation, education and most importantly, hope to underprivileged children. Hands for Education believes this programme will not only make it easier for them to integrate into society when they get older but it can also create a generation thriving with successful leaders, performers, entrepreneurs and so on. Hands For Education changes mindsets so that distant dreams can become achievable goals.
Category: Special Mention Award: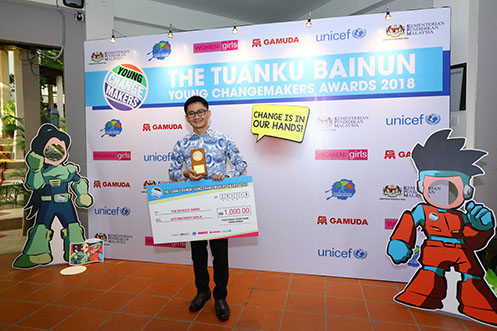 Each year, this teacher has successfully created a team to run a community-assisted project. Among the projects: Building a flood safety tool to save lives of street users (2015), Easy Pipe Filter (2017) to help Special Education students. Many students are inspired to join his team. One of his student groups – BBKK2.0 – is the winner of the group category for Young Changemakers Award Tuanku Bainun 2017.
Congratulations to all the winners of The Tuanku Bainun Young Changemakers Award 2018.