In 1979, the Malaysian Secretariat of the UN International Year of the Child (IYC), recommended that to commemorate this historical occasion meaningfully, something tangible should be established which could benefit the children of Malaysia, at all times.
In 1989, at the Annual Children's Day Celebrations in Stadium Negara, DYMM Raja Permaisuri Agong Tuanku Bainun reiterated the need for such a centre.
In response to DYMM Raja Permaisuri Agong Tuanku Bainun's request, Pusat Kreatif Kanak-Kanak Tuanku Bainun (Pusat Kreatif) was established as a centre where children and youth come together to explore and develop their creativity through Alam Kreatif; a programme developed to enhance cognitive skills, as well as develop their potentials and inherent talents, be it in an open space area or a fully-equipped studio.
The centre is a playground of self-discovery, where learning is fun and children may develop moral and ethical values - a caring nature will be a way of life.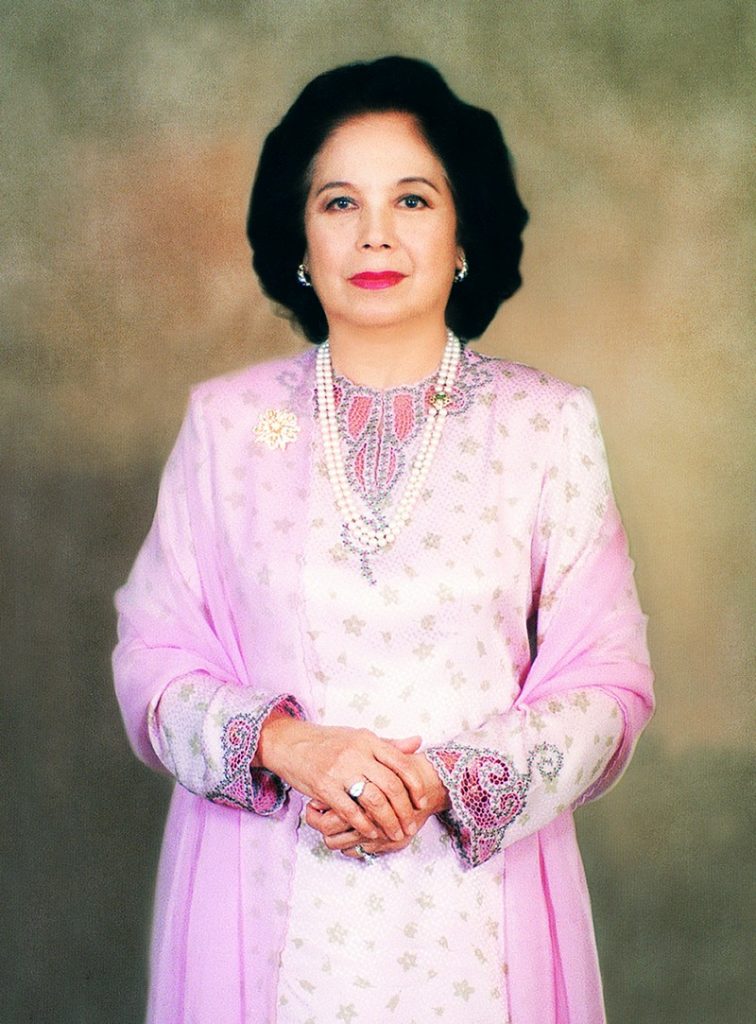 DYMM Raja Permaisuri Agong Tuanku Bainun
Pusat Kreatif Kanak-kanak Tuanku Bainun (PKK Tuanku Bainun) under the patronage of Yang Maha Mulia Raja Permaisuri Tuanku Bainun, is a non-profit organisation with a mission established officially in February 2013 to provide a safe haven for children and youth from the age of 7 - 17 years old regardless of income, gender, religion, language or ability can have access to creative learning to explore and develop an appreciation of the arts, talents and cultures of diverse communities.
We believe that creativity is an integral element to every child's learning, and that all children and youth should have access to the arts.
Located in Taman Tun Dr. Ismail, Kuala Lumpur, our Centre offers venues such as learning, dance, arts & culinary studios, an experimental theatre (KuAsh Theatre), a function hall and open spaces suitable for a variety of activities.
Creative programmes by PKK Tuanku Bainun comes under Alam Kreatif, specialising in arts, culture, heritage, and nature. Our objective is to instill the importance of basic human values, appreciation and exposure to local arts, heritage, culture and a love for nature. Activities are aimed at promoting creativity, confidence and empowerment in hopes of enriching children's lives and those around them.
"We want children and youth to have the opportunity to think, tinker, experiment, express and create."
Chairman - YTM Raja Dato' Seri Azureen binti Sultan Azlan Shah
YTM Dato' Seri Noraini Jane Marree Ariffin
YTM Raja Dato' Seri Eleena binti Sultan Azlan Shah
YTM Raja Dato' Seri Yong Sofia binti Sultan Azlan Shah
YBhg Dato' Wan Mohamed Yaacob bin Wan Salaidin
Company Secretary - Lim Lih Chau (MAICSA 0010105)
Auditor - PricewaterhouseCooper (LLP0014401-LCA & AF1146)
Tax Agent - Ernst & Young Tax Consultants Sdn. Bhd.
Our team consists of highly motivated and talented individuals driven by a common cause of providing a safe haven for underprivileged children and children with special needs.
We are made up of people with different backgrounds and personalities. We are a strong team who in collaboration always finds ways to bundle each other's strengths to benefit the children in our community. What we all have in common is that we are all passionate about the children.
General Manager - Wan Aminah Wan Suffian
Nurul Zahirah A. Hamid –

Head of Department

Syarihan Yuzwan Rosli Ang –

Venues Executive

Syahir Hazman (Marcel) –

Venues Coordinator

Khairee Zulkifli –

Venues Coordinator
Arsyad Azrai –

Head of Department

Khairunnisa Azman –

Programmes Coordinator

Wan Rosdelina Wan Hassan –

Programmes Coordinator
Nurul Zahirah A. Hamid –

Head of Department

Syarihan Yuzwan Rosli Ang –

Building Executive

Amran Yusoff –

Maintenance Assistant Supervisor

Irwan Zainal Abidin –

Handyman
Accounts & Human Resource
Siti Hilwani bt Omar –

Accounts Executive
Marketing & Public Relations
Chin Wan Yau –

Head of Department
We can be reached in the following ways:
Pusat Kreatif Kanak-Kanak Tuanku Bainun
48, Jalan Tun Mohd Fuad
Taman Tun Dr Ismail
60000. Kuala Lumpur
Wilayah Persekutuan Kuala Lumpur
Malaysia
Management Office
Tel: +603-7733 8559
Fax: +603- 7733 8562
Email: enquiries@pkktuankubainun.com
Venues Rental (Theatre, Function Hall, Studios, Outdoor Space)
Tel: +6019-667 8559
Email: pkk.venueteams@gmail.com
Creative Programmes
Email: programmes@pkktuankubainun.com
Building & Maintenance
Email: buildings@pkktuankubainun.com
Marketing
Email: marketing@pkktuankubainun.com