We would like to cordially invite you to join for TIRAI 2023: Theatre Production & Showcase by Alam Kreatif Children.
This year is a great milestone for us as we welcome our 10th Year Anniversary. Come celebrate our children's journey and achievements!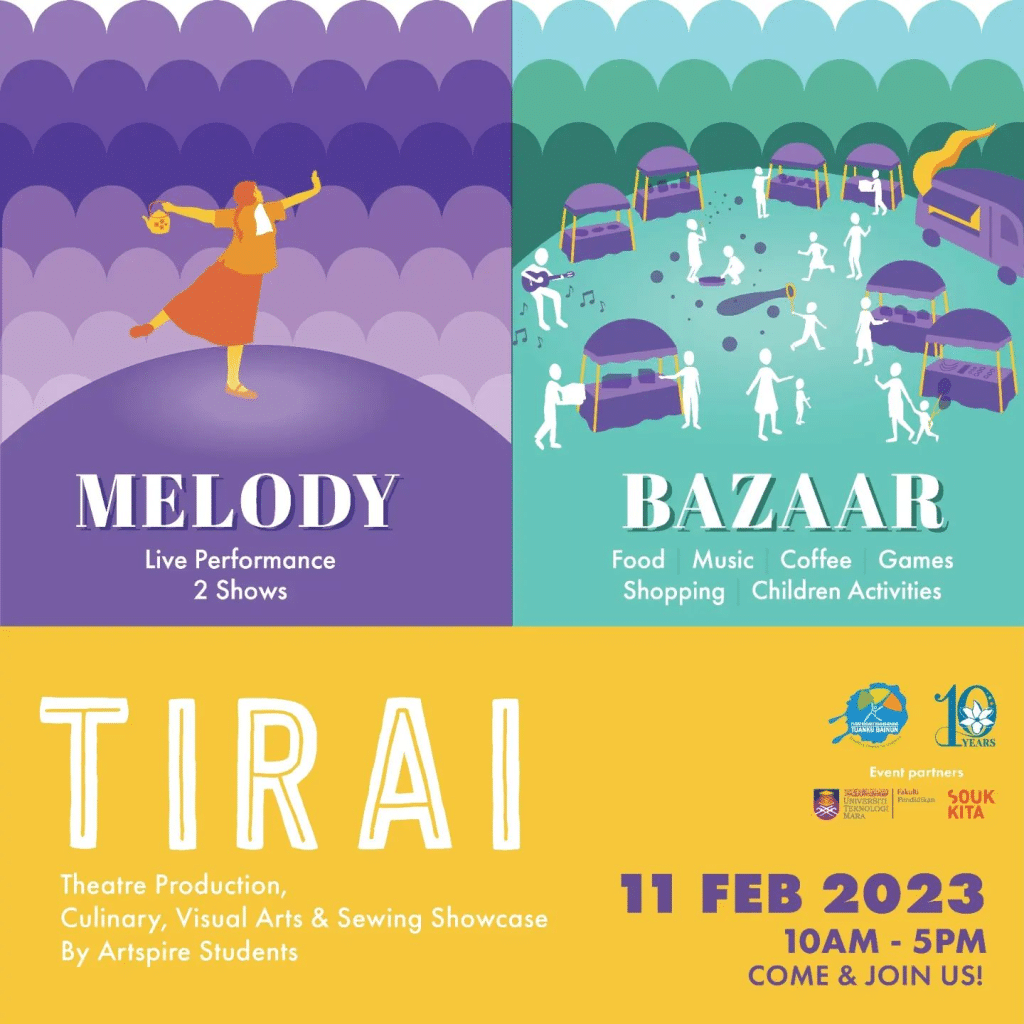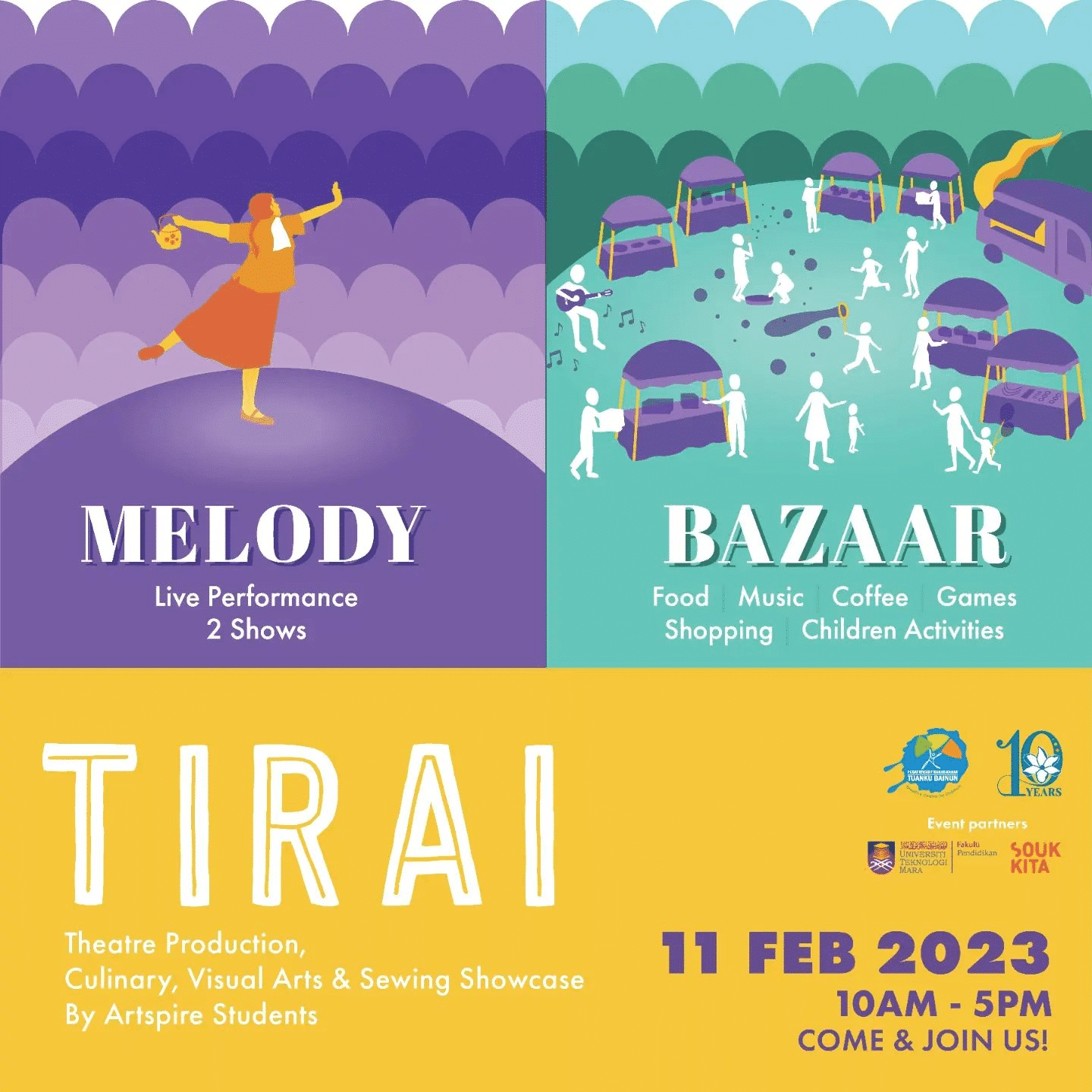 All day activities and charity bazaar
10.00am – 5.00pm
Theatre Production
"Melody" is set in 1967 and is a celebration of the spirit of the arts no matter where you come from. It tells the story of the daughter of a kopitiam owner who dreams of singing on the big stage. Come join her adventure as she navigates chasing her dreams and taking over her family's business.
The production stars our performing arts students of our sponsored programme Artspire – including Malay, Chinese, and Indian dance, Silat Tari, Gamelan, Angklung, 24 Festive Drums and Theatre. It also features students from our Teen Theatre Project programme and Nusantara Scenic Choir Ensemble.
Show 1: 12.00pm – 1.30pm
Tickets: Donation of minimum RM10
(100% of the donation will go towards supporting our Artspire sponsored programme)
Show 2: 4.00pm – 5.30pm
Tickets: Donation of minimum RM50
(100% of the donation will go towards supporting our Artspire sponsored programme)
Note: Entrance into theatre for Melody is 7 years old and above.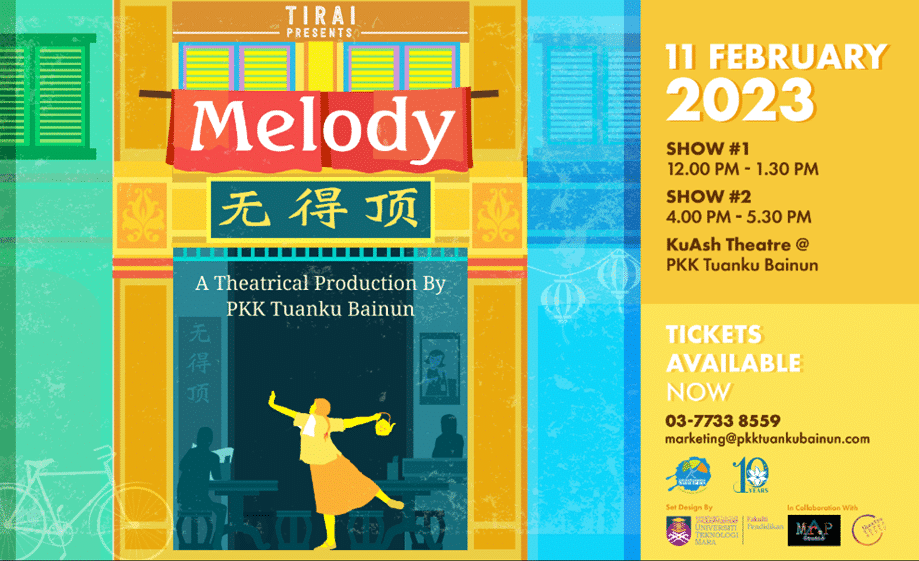 Showcase & Exhibition
Visual Arts, Sewing, Culinary, PKK Tuanku Bainun 10th Anniversary
Charity Bazaar
Handmade crafts, paintings, apparels, bags & accessories, toys & books, artisanal products, food & beverages and many more
Games & Entertainment
For more information contact us at 03 7733 8559 or send us an email at marketing@pkktuankubainun.com.
The event is open to the public, feel free to invite your family & friends and help us spread the word!
Follow us at https://bit.ly/pkktbIG for update