Music in the Forest- Taman Tugu Project (22nd September 2018)
Taman Tugu Project is a CSR initiative by Khazanah Nasional Berhad in collaboration with Kuala Lumpur City Hall (DBKL) with the support of various public sector agencies, private sectors companies and civil-society organisations. It is a project dedicated to conserving a 66-acre forest and turning it into an urban forest park for the community.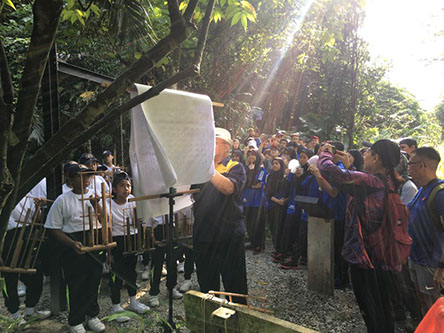 A group of 21 Alam Kreatif children from Rumah Kasih Harmoni Paya Jaras had the opportunity to perform during the Taman Tugu Eco Day to celebrate the launch of the iconic park. The traditional Angklung performance was performed in the forest trails itself complementing the serene and peaceful nature surroundings. Hikers enjoyed the sounds of the Traditional Angklung as it flowed through the forest trails. The Centre is delighted to support this project with the aim of spreading awareness of green space conservation.