Workshop + Competition > For 13 – 17 Years Old
This February 2022, we are hosting our first ever face-to-face Monologue Competition at our centre, PKK Tuanku Bainun, TTDI.
Along with our partners from Sunway University and TheatreThreeSixty, 16 shortlisted participants will get the opportunity to learn more about the arts of performance during the Monologue workshop before performing on the competition day.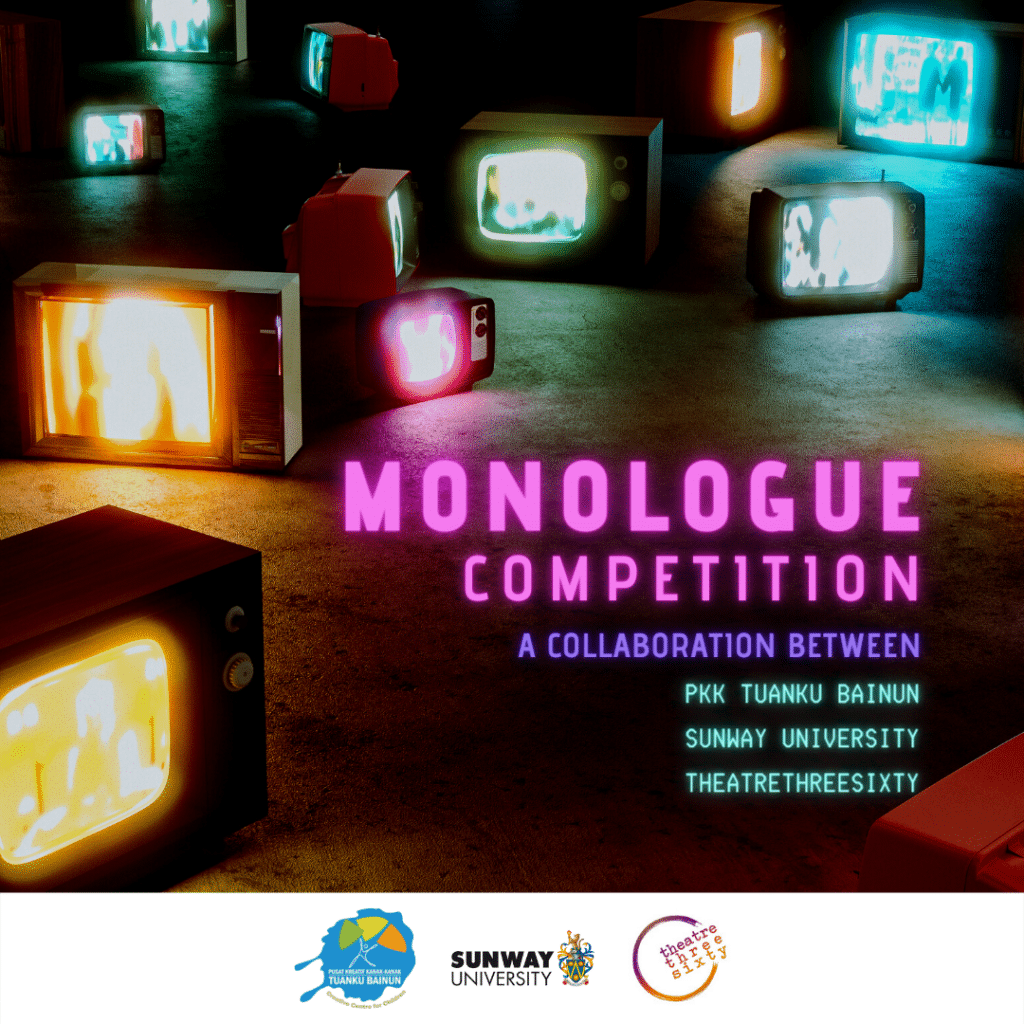 WHAT IS A 'MONOLOGUE'?
A monologue is a dramatic/comedic scene in which an actor gives an extended speech, either to the audience, a crowd, or another character. Basically, a solo scene with a long speech by one character 😉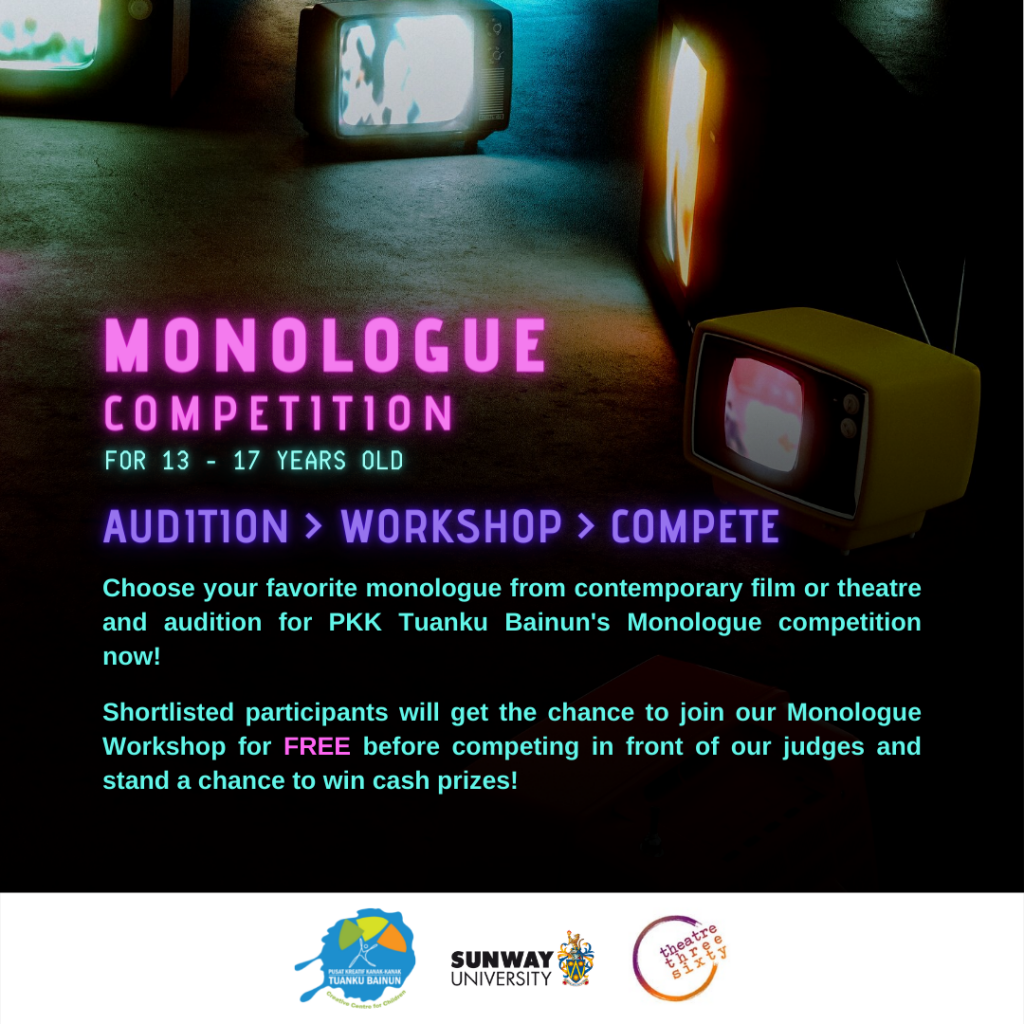 WHAT IS A 'MONOLOGUE COMPETITION'?
Our monologue competition is a golden opportunity for shortlisted participants from our audition to perform TWO monologues in front of our panel of judges to stand a chance to win cash up to RM500!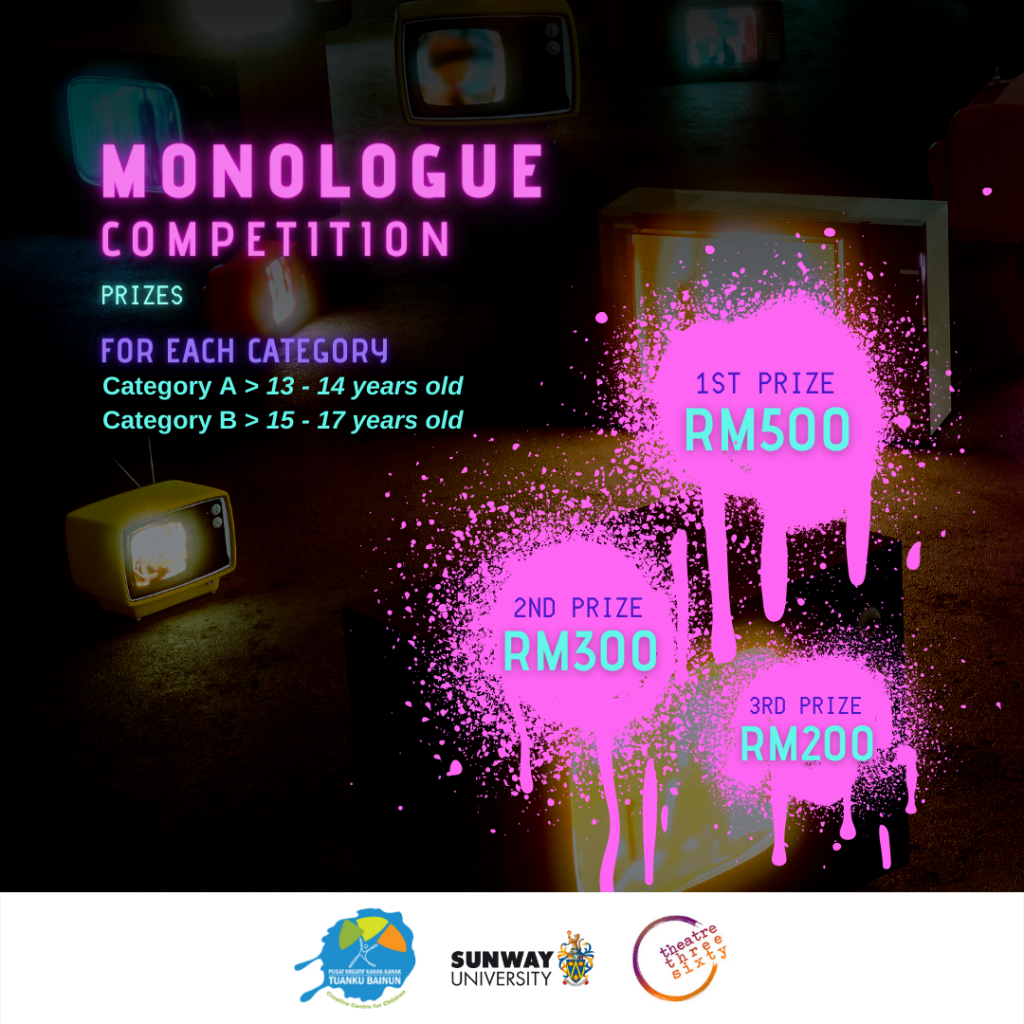 CATEGORIES & PRIZES
The competition is open for two categories:
Category A: 13 – 14 years old
Category B: 15 – 17 years old
For each category, there will be a first, second and third place cash prizes to be won!
---
COMPETITION BREAKDOWN
(Online + Face-To-Face)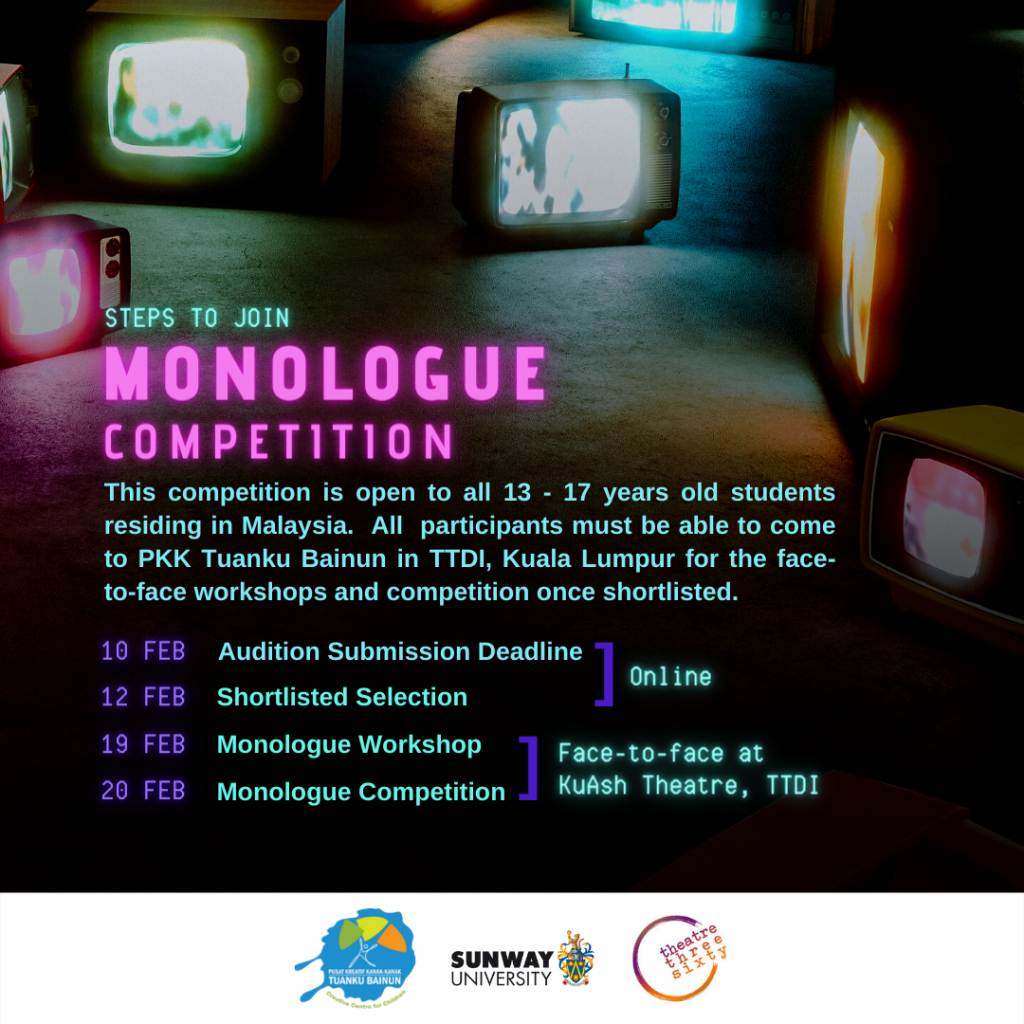 1. AUDITION
(Now – 10 Feb)
Submit an audition video (max length of 2 mins) re-enacting a monologue scene from any drama/ film of your choosing in your own style.
Scroll down for the submission link button.
2. SHORTLIST ANNOUNCEMENT
(12 Feb)
Shortlisted participants will be contacted. Along with the monologue used for your audition, you will be required to choose one additional monologue from our list to practise and perform during competition day.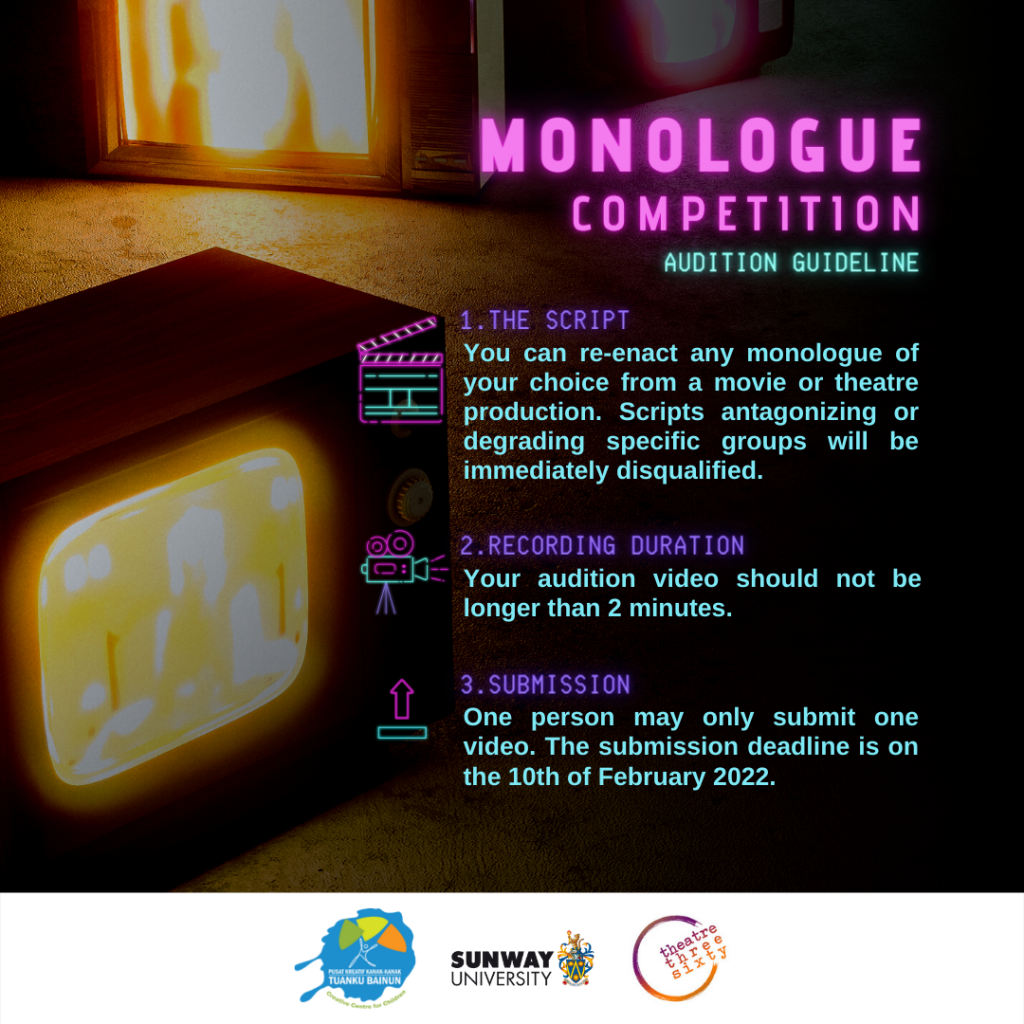 3. WORKSHOP
(19 Feb)
A full day event, all shortlisted participants are required to attend the Monologue Workshop at our centre. To better prepare you for the competition day, you will learn the art of monologue performance by three experienced theatre coaches
4. COMPETITION DAY
(20 Feb)
Participants will perform TWO monologues. One, the monologue from your audition and another the monologue you chose from a list given.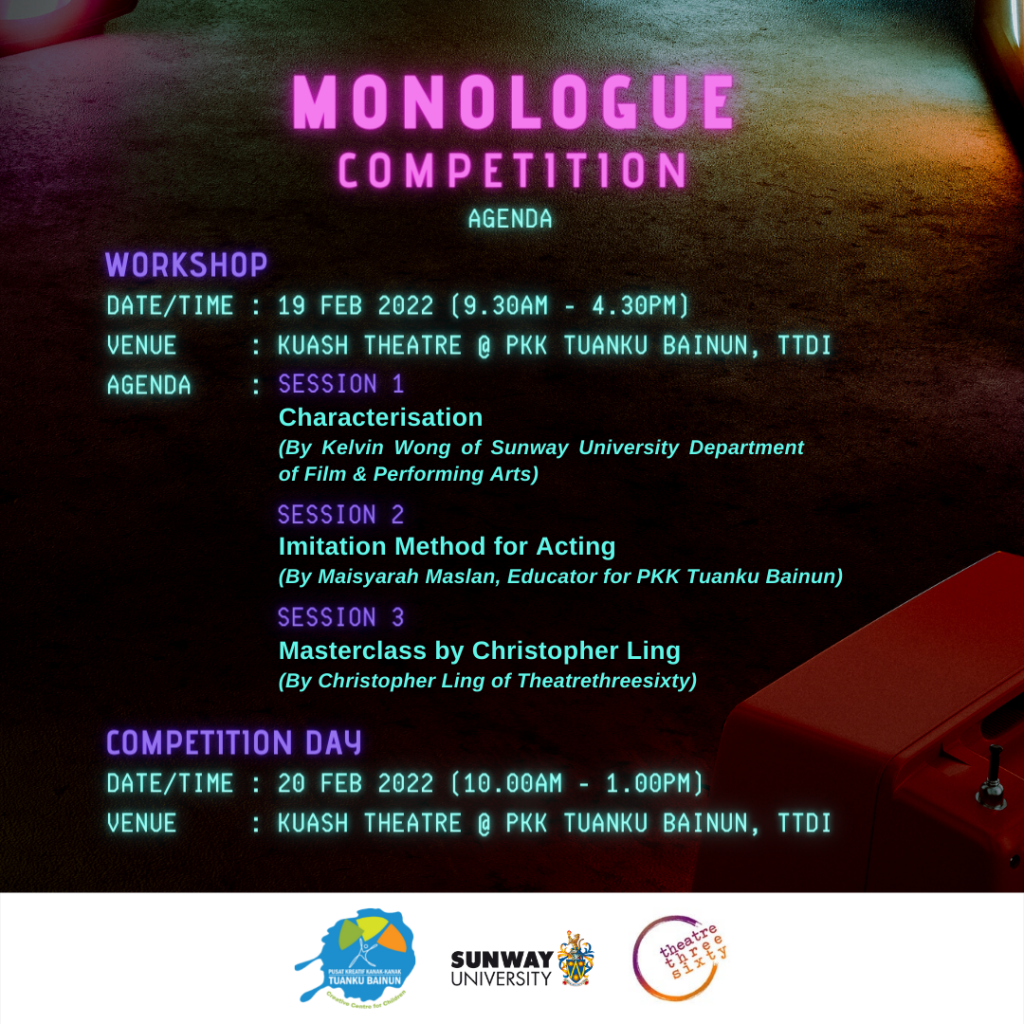 ---
AUDITION VIDEO SUBMISSION